News for 8/7/01:
As you've probably already figured out, NSYNC has sold 1.88 million copies of Celebrity in its first week. yay.
Poor Joey... he missed the 8/5/01 show in San Antonio b/c of pneumonia. He was hospitalized on Saturday afternoon through the entire weekend but hopefully he'll be back on tour soon. News for 7/27/01:
Well, it looks like Celebrity isn't selling as much as No Strings Attached. Check out the article on the MTV web site. And if u have any spare time, go pick up an extra copy of the new CD News for 7/23/01:
Celebrity is out TOMORROW!! Be sure to pick it up as soon as u can. Hopefully, they'll break their own sales record. Keep voting for Pop on TRL too.
http://www.mtv.com/sendme.tin?page=/mtv/tubescan/trl/ News for 7/4/01:
Justin and Beyonce?
Timberlake's brush with Destiny 6/27/01 - 8:29 PM ET (DOTMUSIC)Destiny's Child star Beyonce Knowles has admitted to having a brief fling with Justin Timberlake, the current boyfriend of Britney Spears. However, the liaison is unlikely to cause a rift in the long-term relationship between Spears and N*SYNC's Timberlake, as it happened before they got together. Knowles, who has recently been linked to controversial rap superstar Eminem, confessed: He's adorable I am a big fan. He's a good kisser, too. However, she added: Don't get the wrong idea. It was once at a party. He's doing his thing with Britney now. News for 6/27/01:
Scroll down below for an article on how NSYNC is better than BSB. LOL. pretty cool. News for 6/15/01:
Well since I haven't updated in a while, I'm missing a lot of news that should've been on here before. You guys have probably already figured this out but Joey and his girlfriend Kelly Baldwin are now the parents of their baby girl Brianna (thanks goes out to laura for pointing this out in my guestbook). NSYNC is also nominated for 4 Teen Choice Awards. You can vote at http://www.seventeen.com/tca2001/index.html. News for 6/13/01:
I'm baack!!! If you haven't already noticed, NSYNC has a new video. lol. But of course you all should know that by now... Their new album, Celebrity is expected to be released on July 24, 2001 so make sure you pick it up as soon as possible. Here's the track list if you're curious...
1. Pop
2. Celebrity
3. The Game is Over
4. Girlfriend
5. The Two Of Us
6. Gone
7. Tell Me, Tell Me...Baby
8. Up Against the Wall
9. See Right Through You
10. Selfish
11. Just Don't Tell me That
12. Something Like You
13. Do Your Thing
News for 8/20/00:
NSync moves up to #8 on the Lycos 50 and is described as the "Top boy band" while BSB moves down to #43 and is named the "Fading boy band." haha. That's pretty funny MORE News for 8/8:
from infobeat...*** Spears, 'N Sync to headline charity festival
NEW YORK (Billboard) - Britney Spears and 'N Sync have signed on to headline the third "Rock In Rio For A Better World" festival, to be held Jan. 12-21 in Rio De Janeiro. Native stars such as Funk 'n Lata, Fernanda Abreu, and Pato Fu will also be on the bill, which will eventually grow to nearly 100 international acts. Staged by Brazilian businessman Roberto Medina, "Rock In Rio" follows the 1991 event, which featured performances from Guns 'N Roses, Santana, and George Michael. Proceeds from the 2001 festival will benefit Viva Rio, a Rio-based social services organization that aids the youth of the city. "Rock In Rio" will be broadcast live in Brazil and will be licensed to more than 50 countries. AOL will sponsor the event and will create a network of cyber-areas allowing concertgoers to communicate with people through the world.
News for 8/8/00:
I'm not sure which TV show I saw it on but I got to see a preview of the Teen Choice Awards that airs on August 22 on FOX. Yes NSYNC was there... and they came home with FOUR awards. yay. Make sure you watch it when it airs and you might wanna close your eyes when Jim Carrey comes out. News for 8/2/00:
Hey I finally updated!!! I just got an email from MCY about some free clips from an NSYNC webcast. Just click on this link: http://www.musiconclick.com/webcast/english/nsync/nsyncnew/frameset.html. I saw the first one and they sing "I Thought She Knew" in which Joey has a solo in so woohoo. Have fun =) News for 5/19/00:
*** 'N Sync's Timberlake hosting ABC special
(Launch) - 'N Sync singer Justin Timberlake will host the one-hour ABC special "Teen People's 25 Hottest Stars Under 25" at 8 p.m. ET next Friday. The special profiles the most popular artists from the worlds of music, film and television. Musicians highlighted on the special include 'N Sync's Lance Bass and J.C. Chasez, Pink, Sisqo, Mandy Moore, Britney Spears, Mya, Jessica Simpson, Juvenile, Hanson, Christina Aguilera, Enrique Iglesias, LFO's Rich Cronin, Backstreet Boy Brian Littrell, Eve and Charlotte Church. Film and television stars that made the cut include the cast of "That '70's Show," Mena Suvari, Carly Pope, Freddie Prinze Jr., Jason Biggs, Drew Barrymore, Brendan Fehr and Jennifer Love Hewitt. News for 5/6/00:
Scroll down for an article on how No Strings Attached is LOSING SALES. DAMN. Buy another album or somethin.. Just keep em at #1 long enough to break a record News for 4/12/00:
Sorry guys I tried updated sooner but tripod was being gay. NSync is now first on the top 10 downloads from Listen.com followed by Madonna and Faith Hill with BSB at #5. News for 4/2/00:
Yay.. NSync's "No Strings Attached" is NUMBER ONE on the Billboards... check it out... http://www.billboard.com/charts/bb200.asp. And click here to read an article about that.
•Pick up a copy of Seventeen's May 2000 issue. There's an article there about NSync and their LOVE LIFE. News for 3/25/00:
Tickets for NSync's upcoming tour went on sale 2day... Lucky me :). I got decent seats. But newayz... Go down to the articles section of this page for something on NSA that I read. News for 2/26/00:
"Bye bye bye" has just reached #7 on the singles Billboard Hot 100 moving up 6 spots from #13 and getting the "Greatest Gainer/Airplay" thing. It has also moved 2 spots ahead of BSB's "Show Me the Meaning..." (at #9) which was 1 spot ahead of NSync last week. News for 2/23/00:
In case you didnt see the Grammy's, NSYNC presented an award with Mary J. Blige but I forget which award they were giving. And if u saw BSB perform ur probably wondering what the hell was wrong with Nick. lol. And I mean this in the nicest way possible, but he looks like a freak. News for 2/13/00:
Yay.. NSYNC was #1 for a whole WEEK. Lets try to beat their old record of like 849579847654 days at #1. Whatever their record was. There's a link to the TRL thing at the news for 1/27/00. News for 2/09/00:
From Teen Magazine:
"Even 'N Sync's Justin Timberlake encountered a situation that he believes was racially motivated. In an unfamiliar part of his hometown of Memphis, Tenn., he was attacked and hit in the back of the head with a bar. At first, assuming he was being mugged, he grabbed his back pocket where his wallet was. But he says, he was 'kicked and hit for about two minutes and some slang remarks were made" by three African-American men. With his well-known success, Justin seems to have recovered from the physical and emotional scars, but not everyone does."
aww.... poor justy
News for 1/27/00:
Yay Nsync was #1 today on TRL. Make sure u keep voting. Here is the link but make sure the last word of the URL is the day of the show you want the vote to count for. Like if you're voting for friday's show, it should say friday at the end. Okie?
Elt;a href=http://www.mtv.com/mtv/tubescan/trl99_new/playmy/playmy.tin?sPollName=reqmain_friday target=new>Total Request Live News for 1/24/00:
Lance, 7th heaven monday, jan 31 WB 8pm ET (???) watch it.
NSYNC, Making The Video - Bye Bye Bye MTV 10:30pm ET today jan 24 watch this too.
Also the album, No Strings Attached, will be released March 21 not March 7 News for 12/30/99:
Yay I finally updated this page!! Newayz, the 2000 NSync calendar is being distributed by TransCon, not NSync. So don't buy it. I'm pretty sure that they'll be coming out with one that the group actually makes themselves.
•Heard any rumors about Joey and All Saints lately? Yup it's true... He's been seen "getting it on" with the members of All Saints. The source... an EYEWITNESS ACCOUNT News for 10/29/99:
Sorry I didn't put this in here any sooner but I wanted to find you guys articles before I put it in here. In case you haven't yet heard, JC just filed a lawsuit against Lou Pearlman for at least $25,000. Here are some articles you can read about it:
Elt;a href=http://rollingstone.tunes.com/sections/news/text/newsarticle.asp?afl=&NewsID=9636&ArtistID=4105 target=new>Rolling Stone--NSync Level Fighting Words at Label
Elt;a href=http://www.mtv.com/news/gallery/n/nsync991103.html>MTV News--'N Sync Slams Ex-Manager As "Unscrupulous, Greedy" In Legal Papers News for 10/29/99:
Did ya guys see the Radio Music Awards? If you didnt, NSYNC did Tearin Up My Heart and did the dance they did at the VMA. Then they did I Want You Back, and finished up with a new song (i guess it's their new single ????). It's a good song and they all looked hot. Urr.. Justy had like a red afro but he's still pretty hot
** Oh ya and some guy that won for best hook up song or whatever the hell it was said something like "I'm sorry to all the NSYNC fans but IN YO' FACE YOU MOTHER FUCKING BACKSTREET BOYS". well he didnt say "mother fucking" but it has a better sound to it. lol. mother fucker
**oh and forgot to mention... they won for best style and the guy that they lost their other thing to was edwin mccain (who the fuck is that?) News for 10/22/99:
Sorta last minute, but tomorrow at 4pm (????) NSYNC and Gloria Estefan will be performing "Music of My Heart" on VH1's Concert of the Century thing or whatever the hell it is. Check your listings because i dont remember what time its on. lol News for 10/17/99:
Chris got his haircut. yay...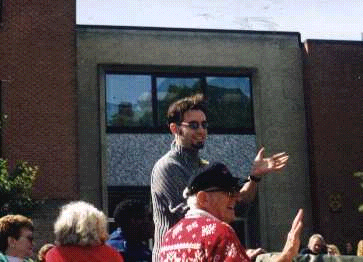 and I heard he's building a house w/ his gf (the blonde he was with in the i drive myself crazy video)
News for 10/16/99:
According to Rolling Stone, Trans Continental has just filed a $150 million lawsuit on NSYNC. Damn them.
"Trans Continental's conduct with regard to 'N Sync is the most glaring, overt and callous example of artist exploitation that the music industry has seen in a long time."
Read more about it by clicking here
News for 10/11/99:
MTV News just said that BSB left Jive Records and that they were pretty damn angry. They said they have no problem with NSync (yeah right), but they wouldn't tell them why they left.
*10/7/99--'N Sync Set For "Millennium Live;" Justin Inks TV-Movie Deal News for 10/10/99:
Did ya catch them on TRL Wednesday, October 6? Sorry I couldnt put it up on this page to remind you, but I'm sure not many of you missed it. In case you did, they talked about their new CD a lot. For all you Justin fans, Justy did the Ricky Martin shake thing =). And for all the Joey fans, Joey shook his butt at the window. Woohoo.
*There's a hot pic of the guys in the November issue of Teen. They ALL look good in it.
News for 9/17/99:
Just wanted to let you know that there are lots of cool nsync things being sold at http://www.geneofun.on.ca/nsync/index2.html. Click on "Buy Sell and Trade", then on "i agree to these terms", then go to the list of items being sold. I highly recommend looking for the girl who posted the ad selling the PPV concert for $12 for anyone who can't order PPV or people who live in Canada, or missed it. It will save you some $$ considering if you order it regularly, it costs almost $20.
News for 9/16/99:
I finally updated this page. Okie well make sure you watch MTV News 1515 on friday, September 17 for news on NSYNC and their label change to Jive Records.
*Make sure you vote for NSYNC on TRL!!! Click here to vote. Be sure to call in if you can... 1800 DIAL MTV from 3-3:30pm EST
*The MOMH single will be in stores September 28. Reserve your copy by going to www.cdnow.com for only $2.49.
News for 8/12/99:
Lou Pearlman's new movie, "Jack of All Trades" will feature NSync and other TransCon artists. It's rumoured that Danielle Fishel will also have a role in it
*The pay-per-view concert will be aired on Saturday, September 11 at 8pm. It's 75 minutes long, and preceding the show will be a free half hour session to get up close and personal w/ the guys.
Suggested retail price: $19.95
News for 8/11/99:
Make sure you check out L'Oreal's Summer Music Mania '99 (Teenapalooza) which will be airing on August 31 8pm on UPN. Artists other than NSync who are expected to appear are Christina Aguilera, Britney Spears, Tyrese, Wild Orchid, B*Witched, and 98 Degrees. Pick up the newest issue of YM for details on how to win a trip to see Teenapalooza 2000
News for 8/10/99:
The "Music Of My Heart" video with Gloria Estefan was just premiered on MTV's TRL. Click here to vote.
**Note: Make sure that by the time the page finishes loading, the last word of the URL is the day of the week. If not, change it or else you will be voting for the wrong day =\
News from 8/9/99
The new album, "No Strings Attatched", according to Lance, is done, but a couple NSync shows in September were cancelled for recording time. The album supposedly comes out in either October or November.

---

Articles
*NSYNC Break Record!
6/27/01 - 12:53 PM ET
(MTVAsia) - It looks like *NSYNC have well and truly won the current battle of the boy bands, as they are tipped to break their own first week sales record of 2.4 million with the release of their "Celebrity" album in July. Justin Timberlake and the boys have also been sold out hundreds of dates on their U.S. Pop Odyssey tour, while former boy band kings, the Backstreet Boys, are finding it difficult to fill seats, according to reports. Even U.S. radio stations have admitted that they have been given loads of Backstreet Boys tickets to give away because, as one radio DJ revealed, "no one wants to buy them." Meanwhile in the U.S. singles chart, *NSYNC's "Pop," the first track plucked from their eagerly anticipated album, is currently resting at No. 19, while the Backstreet Boys' "More Than That" is lagging behind at No. 27. Such is the hype surrounding the release of *NSYNC's new album, the follow-up to "No Strings Attached," that Rolling Stone magazine have announced that each of the five members of the boy band have their own individual cover for its July issue.
*** 'N Sync holds top spot on album chart
LOS ANGELES (Billboard) - The 'N Sync boys are still the ruling kings of the Billboard 200, holding the No. 1 position for a sixth straight week. But the boy band may soon be dethroned; sales of their Jive debut "No Strings Attached" dropped 63% week-to-week, scanning 248,000 units vs. 654,600. Two industry mainstays scored big debuts for the week ending April 30. Toni Braxton bows at No. 2 with "The Heat," her first album in four years, which sold 199,000 copies, while "Skull & Bones," a two-disc release from alternative rap kings Cypress Hill, comes in at No. 5, moving 139,300 copies. Joe's "My Name Is Joe" falls a spot to No. 3, scanning 150,800 copies vs. 286,250 the previous week, according to SoundScan figures obtained from industry sources. Dru Hill singer Sisqo's solo album "Unleash the Dragon" moves down a notch to No. 4 on 146,250 units scanned. The Def Jam release has sold 2.6 million units to date.
'N Sync Tickets Go 'Bye Bye Bye' Jive act 'N Sync's "No Strings Attached" tour is believed to have set a single-day record for ticket sales last Saturday, the first day the tickets were available. More than 1 million tickets were sold, and 51 of the 52 shows put up that day sold out. The total gross was about $40 million. Only a May 14 date at Nashville's Adelphia Stadium did not sell out, but it's expected to do so shortly.
The tour, sponsored by MCY.com and Nabisco and produced by SFX Touring, begins May 9 at Mississippi Coast Coliseum in Biloxi. The first leg ends July 31 in Hershey, Pa.; a second leg of about 30 dates will be announced soon. MCY.com will record concert and backstage footage for an upcoming webcast.
Meanwhile, it appears that 'N Sync's Jive album "No Strings Attached," released last week, will not only shatter Backstreet Boys' one-week record of 1.13 million units, but will break the 2 million mark. SoundScan results will not be released until Wednesday morning, but industry observers say they are confident that the 'N Sync set surpassed that figure.
-- Ray Waddell, Nashville; Ed Christman, N.Y.
"'N Sync album selling fast" - added 3/25/00
NEW YORK (Billboard) - The Jive debut from 'N Sync, "No Strings Attached," featuring the hit "Bye Bye Bye," burst out of the starting gate Tuesday with an impressive show of sales that could culminate into the biggest first week ever in the SoundScan era, many retailers said. According to sources, Jive shipped 4.2 million units and reorders were already pouring in hours after the album went on sale tuesday. The SoundScan record for one-week sales in the U.S. belongs to labelmates Backstreet Boys, who moved 1.13 million units of their "Millennium" set in its debut week last summer.
"Backstreet Boys Quit Playing Games" - added 10/9/99
They want it their way. News that the Backstreet Boys are threatening to bolt Jive Records, reportedly because the label is wooing fellow pop idols 'N Sync (the boy wonders who themselves recently and abruptly announced their exit from RCA Records, much to that label's dismay), may have some fans wondering if anybody in the music business honors their contract these days.
Public contract disputes are as old as the business itself, and artists often turn up the heat in order to renegotiate new financial terms for themselves. But the unfolding Jive/`N Sync/Backstreet Boys opera even has some inside the business shaking their heads in disbelief.
The chronology, if nothing else, is simple. Two weeks ago Jive announced that it had signed `N Sync, who were disgruntled with their RCA contract. Executives at RCA's parent company BMG were furious over the move. "On a scale of one to ten, it was a ten," says one source. BMG insisted `N Sync was still under contract and was not free to simply up and leave for a new, more lucrative home. "'N Sync is a BMG act and we will protect and enforce our rights vigorously," said a company spokesperson.
Jumping labels in the middle of the game, and before fulfilling a contract, is a highly unusual move, even by music industry standards. "We're all trying to find out under what basis [`N Sync's] trying to end their contract," says one industry attorney, who is simply an observer of this dispute. "It's like the Boston Red Sox signing [Yankee outfielder] Bernie Williams and the Yankees insisting Bernie's still on their team. But contracts can be read many different ways, that's why we have the courts."
Making matters even more complex is the fact BMG owns twenty percent of Jive, thereby turning the dispute into an unpleasant family feud.
Now comes word that the Backstreet Boys camp is looking to use that internal turmoil to their advantage, complaining about Jive signing 'N Sync (whom the BSB consider to be pale imitators), as well as BSB members not seeing enough money from their multi-platinum sales. Suddenly, it is Jive issuing statements insisting its top-selling teen act, the Backstreet Boys, are still signed to the label.
In many ways the Backstreet Boys' bickering is much more common: a best-selling act going public with its complaints about its label deal and threatening to leave, in hopes of re-upping for more money. (Note how the highly publicized suit between Beck and his label Geffen, filed back in April, was quietly settled earlier this week, as these types of money skirmishes almost always are.) "Everybody's seen that before," says the attorney.
What makes this scenario so compelling though (besides the intense animosity between `N Sync and the Backstreet Boys), are the extraordinary sales numbers involved. In the last two years `N Sync and the Backstreet Boys have sold a combined 21 millions albums, in America alone. For the groups' two record companies, those sales represent a profit of more than $100 million. Those sorts of money-making properties come around once every few decades and to lose one prematurely would be devastating to each record company.
But those are the headaches that accompany mega-success, says one source. The bottom line: "It all stems from people wanting more money."
ERIC BOEHLERT
(October 6, 1999)
From Rolling Stone
---
"Millenium" vs. "No Strings Attached" - added 8/10
This was originally a chain letter, but I thought it would be a good idea to just put it in here. Okie read on
PLEASE KEEP THIS MESSAGE CIRCULATING AROUND THE WORLD UNTIL THE ALBUM IS OUT. I AM STARTING THIS EMAIL BECAUSE AS WE ALL KNOW, NSYNC IS WAY BETTER THAN BSB! RIGHT? OK, AS YOU MAY HAVE HEARD, FOR THE RELEASE OF THE 'MILLENIUM' CD, IT WENT PLATINUM IN ONE DAY...THOSE BSB FANS THINK THEY'RE ALL HIGH AND MIGHTY, BUT NOW WITH THE NEW NSYNC ALBUM DROPPING IN THE FALL, WE HAVE TO PROVE TO ALL THE BSB FANS, THAT NSYNC FANS ARE THE GREATEST! WHAT I AM ENCOURAGING EVERYONE THROUGHOUT AMERICA, AND ALL OVER THE WORLD, TO DO IS PLACE A HOLD FOR THE CD AT YOUR LOCAL SAM GOODY STORE. IT ONLY COSTS $2.00 AND THEY WILL CALL YOU A DAY BEFORE THE CD'S COME IN SO YOU CAN PICK UP YOUR COPY. SO, BSB WENT PLATINUM IN ONE DAY... BUT THIS WAY, NSYNC CAN GO PLATINUM IN HOURS...AND IF WE TRY, MAYBE EVEN MINUTES! PLEASE PASS THIS ON TO ALL YOUR FRIENDS! AND FELLOW NSYNC FANS. WE MUST SHOW OUR SUPPORT FOR OUR 5 FAVORITE GUYS. SO EVEN IF YOU DON'T WANT TO SPEND AN EXTRA $2.00 (WHICH IS A MINIMAL AMOUNT) GO TO THE STORES RIGHT WHEN THEY OPEN, HAVE A FRIEND OR FAMILY MEMBER PICK ONE UP FOR YOU, ANYTHING...I DON'T CARE, JUST GET THE CD AS SOON AS YOU CAN! IF THIS WORKS, MAYBE WE CAN SET A WORLD RECORD OR SOMETHING LIKE 'THE FASTEST ALBUM TO GO PLATINUM'. THANK YOU SO MUCH, I REALLY APPRECIATE IT, AND I'M SURE THE BOYS OF NSYNC WILL TOO.
STAY *NSYNC